Enjoying Your Outdoor Oasis​
Quick Tips for Outdoor Maintenance & Fun
Spring sunshine gives us the motivation to tackle spring cleaning projects, and after the work is completed, there is time and space to play. We're taking a closer look at both work and play–with spring property maintenance tips and, of course, ideas on making the most of your own backyard.
Winter weather is slowly leaving, but our heads are already outside awaiting sunshine–and spring has finally arrived. Now, as the hustle of the winter holidays has been silenced, you may be looking around your home thinking about which jobs you want to tackle first. Spring is synonymous with cleaning and maintenance–and that often starts from the outside in. Get your home ready to enjoy friends, family, and great weather by following a few quick tips:
1 Spruce up your most sunshine-filled space
Spring is a great time to think about your lawn and garden, and to stock up on the supplies that each will need to thrive. Clear out any dead grass and weeds, add a fresh layer of topsoil to bare spots and reseed those areas so they can start to grow again. For a flourishing lawn, consider aerating and fertilizing for the season. Add new, rich soil to any garden beds and get produce planted early for a long and fruitful season. Esh Hardware also has a great line of lawn care products and tools for the garden!
2  Touch up exterior paint.
The elements of winter weather can be tough on the outside of farm buildings, homes, and offices. Walk the perimeter of your property to ensure that there has been no significant damage to note. Before the paint is touched up, grab some outdoor cleaner as well and remove any dirt, mold or mildew from other areas, then touch up paint anywhere that might need it. Repainting the trim and siding of your buildings is especially important to protect them after a long winter.  Grab paint and other necessary supplies from Esh Hardware anytime. Support local and shop small–we still have everything you need!
3  Clean out your gutters.
When your gutters are full of leaves and dirt, they can leak, and improper drainage can cause water to seep into your crawl spaces or basements. Inspect your gutters to look for any loose or leaky areas, and clear them fully of any debris that has gathered there. Downspouts should always drain water away from your property's foundation.
4  Remove old, dead leaves.
Grab a leaf blower and do a final removal of all old, dead leaves. This will allow for new spring growth. These leaves can be crumpled to use in your garden soil or layered in a composting area in your yard.
Pick up a weed trimmer or chainsaw from Esh Hardware and get things as sparkling clean outside as you would inside. Creating a beautiful oasis right in your own backyard will encourage get-togethers, backyard bbq's, games, and tons of fun!
There's nothing like spending quality time and making beautiful memories outdoors with friends and family. From fresh air and campfires to sizzling burgers on the grill and shared smiles, there's nowhere better to be after a cold winter. We've got just what you need for hosting family and friends–and even for hosting large events like graduation parties and reunions. Our outdoor living product lineup is expansive, with personal grills from Kamado Joe, Masterbuilt, PitBoss and Camp Chef to larger BBQ grill and roaster rentals perfect for a pig roast!
At Esh Hardware, we refill propane tanks so you can grill throughout spring and summer without worry. If you need charcoal, we've got your back there too. We also have a full-lineup of seasonings and sauces to help you create the perfect BBQ, burger, steak, chicken and more. 
Invite the neighbors, friends, extended family–when it's time to celebrate you can't have too many guests. Between our larger grill rentals and our folding and camp chairs, we have everything you need to host an unforgettable event.
Being outdoors is all about having fun, and we have lots of products to encourage laughter! From badminton and volleyball nets to bikes, scooters, and spikeball–there's something to fit everyone's preferences. Swing through to grab something as small as a basketball, or to surprise the little ones by bringing home an entire trampoline!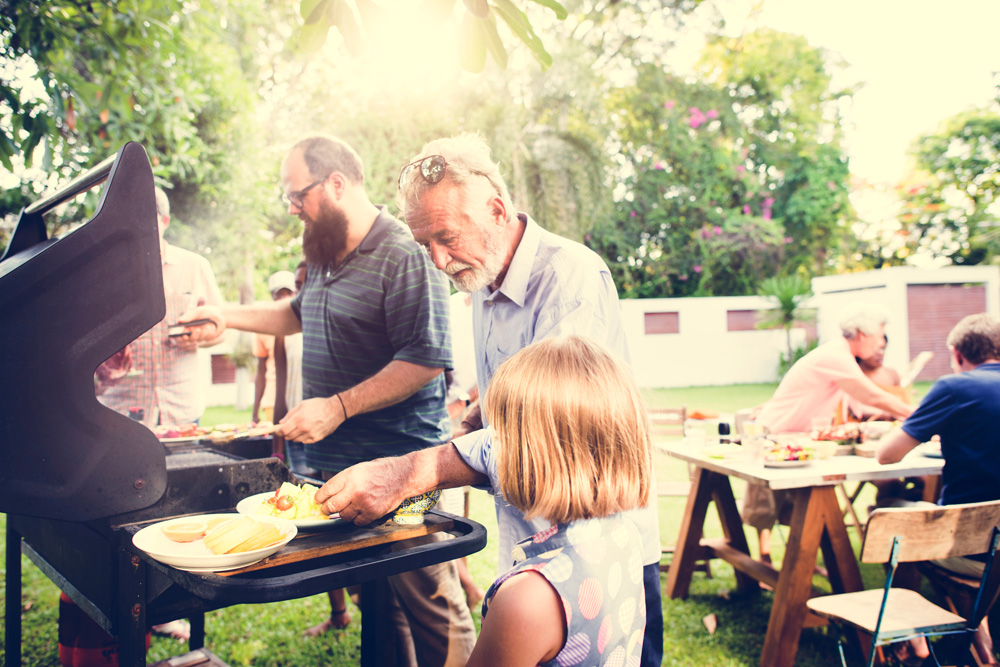 If you've prepped your spring 'to do' list and are ready to tackle it, add a quick stop at Esh Hardware to the top of your list. We have everything you need–all in one convenient location.
Many of our products are proudly made in the U.S.A., and all are hand-selected due to their quality and value. If you haven't heard of us before now, stop in anytime. We're always happy to help every guest who walks in our doors.